Welcome to the metaverse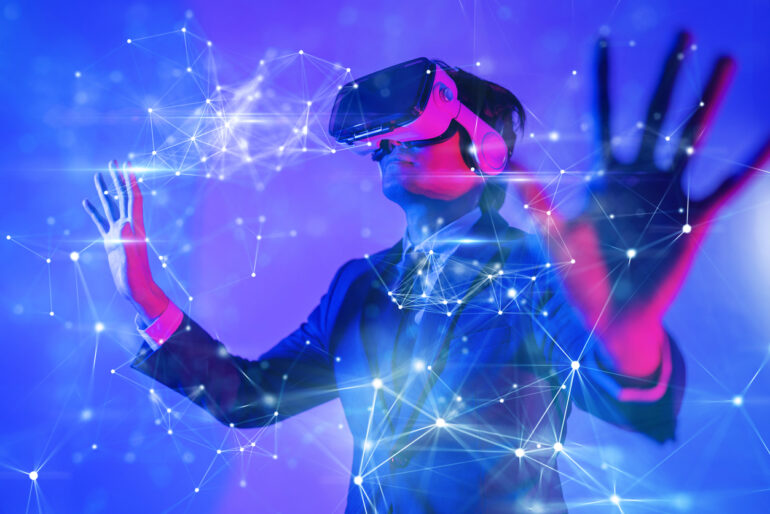 We recently saw how Facebook (NASDAQ: FB) rebranded to Meta, which had a lot of repercussions. But Mark Zuckerberg wanted to turn the negative value of the Facebook brand into a positive one, creating a whole new business, the Metaverse.
It consists of creating a totally virtual world where people can interact. But people who get involved in this world will not be able to move by themselves. They will need accessories.
For this reason, a few years ago, Mark bought Oculus, which currently operates under the Meta brand. These are virtual reality headsets, which allow us to immerse ourselves in this world, and at the same time, have the ability to control our hands with the headsets and controllers. While this seems like a major breakthrough, there is still a long way to go.
Companies like Nike (NYSE: NKE) are developing sensors to put in our shoes, which would add an additional function in the Metaverse, our feet. With this integration, we are almost ready to go out into our virtual world.
But it doesn't stop there. Two giant companies, Google (NASDAQ: GOOGL) and Microsoft (NASDAQ: MSFT) are developing artificial intelligence to enhance this Metaverse. At this point, what we have to hope for is that the result is ready, as we have the support of tech giants like Facebook, Google, and Microsoft. The result may not please everyone, but it will surely be very good.
On the other hand, in recent years, Apple (NASDAQ: AAPL) made its contribution to augmented reality, with the incorporation of its LiDAR (Light Detection And Ranging) sensors in its iPad PRO, helping its cameras in photography and augmented reality. This sensor has the ability to measure and map a place so that the augmented reality experience is the best possible.
Now that we have our virtual world and a way to move around with accessories, how are we going to represent ourselves in the Metaverse?
This is where the NFTs or non-fungible tokens come into play, where people will use different avatars to identify themselves. This is where the 'CryptoTwitter' stands out with the Crypto Punks and the Pudgy Penguins which caught the attention of media, including the New York Times. I only mentioned two of the most famous collections, but there are hundreds of thousands.
In addition to these avatars, it will also be possible to acquire objects in NFT format, which gives us the possibility to show our personality and originality. It is worth noting that NFTs help to establish the ownership and originality of digital items. Imagine that a musical band releases an NFT of one of their concerts, and you are lucky enough to get it. You would be the only one in the Metaverse with that item, which could even be priceless.
All of this is possible thanks to the constant developments being made on the main blockchains, which are Ethereum (ETH/USD) and Solana (SOL/USD).
The Metaverse is taking shape more and more, and in huge leaps, it is only a matter of time before we are all immersed in a virtual world. The question is, which other large company will join in to contribute to the creation of this world?
Want to get published in the Quantfury Gazette? Learn more.