Steel birds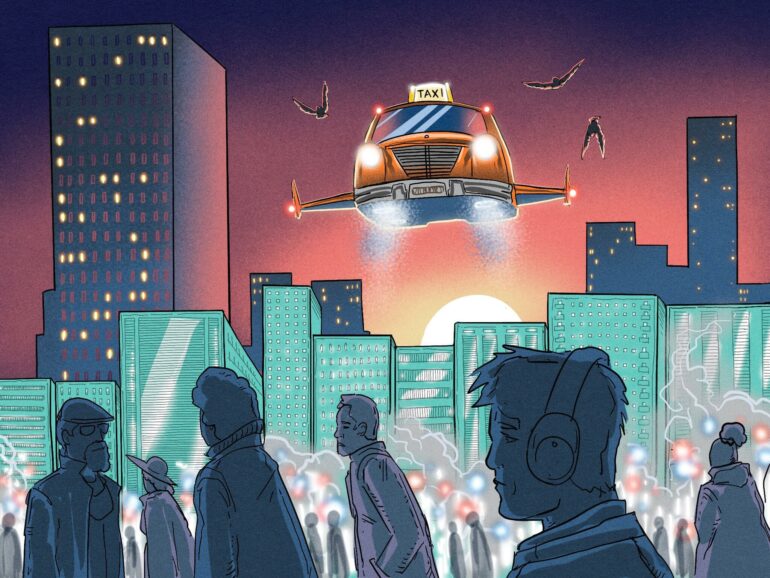 Dreams come true when we start making steps forward to it. When there were no telephones in the world, people sent messages to each other via post pigeons that could fly over 600 miles, but it took an indefinite amount of time. Nowadays, we do have smartphones with fast internet to connect with our friends or just random people on social media, but when it comes to real meetings, people face another problem – traffic.
It might consume plenty of time to go from point A to point B, especially if you live in a large city. Unfortunately, people do not have wings, but could humans be getting closer to creating a self-flying device that allows a person to take to the air as freely as a bird and save the most precious resource – time?
Flying cars or self-flying machines seem futuristic, but in fact, commercial flying taxis to personal jetpacks are already here. The increase in demand for an alternative type of transportation in urban mobility is a key factor driving the growth of urban air mobility (UAM). Forecasts suggest that the market can rise from $2.6 billion in 2020 to an estimated $12.4 billion by 2027.
The world's largest aerospace company Boeing (NYSE: BA), is investing around $450 million in Wisk Aero to support the development of future pilotless flying taxis. So far, there is no specific date of when the sixth-generation Wisk passenger vehicle will be released, but industry sources said the idea was to present it for certification in around 2029.
Even though there are so many startups in the aerospace industry now, Boeing (NYSE: BA) is not the only company teaming up with Silicon Valley to invest its funds in a new emerging market; they said it would be the first autonomous passenger-carrying vehicle to be certified in the USA.
The next well-known European aerospace company unveiled a brand-new flying taxi called the CityAirbus NextGen. Airbus (BATS EU: AIR) is developing a fully electric, four-seat urban taxi that will run quietly and cover short distances quickly. The main features of this bird are an 80-km range and a cruise speed of 120 km/h – making it perfectly suited to zero-emission flight operations for different kinds of tasks in the cities. So, Airbus (BATS EU: AIR) will be one of the biggest competitors with Boeing (NYSE: BA) in the electric vertical take-off and landing (eVTOL) aircraft market. 
Not surprisingly, Uber Technologies (NYSE: UBER) invested in this concept of "steel birds" as well when they saw these companies starting to participate in this new emerging market. Joby Aviation – the secretive California-based electric air taxi developer, announced its acquisition of Uber Elevate after a $75 million investment. The deal calls for the two companies to support the development of a vertical take-off and landing passenger aircraft that might take to the skies as early as 2024.
Despite many predictions, there are still challenges with these new technologies, such as regulations, licensing, and safety concerns. Regardless of whether we see a passenger flying taxi in the next six years or self-flying machines, the prospect is exciting. A new transportation system could shape how we commute, work, and live in the coming decades.
Want to get published in the Quantfury Daily Gazette? Learn more.