Hospitality 4.0: no thanks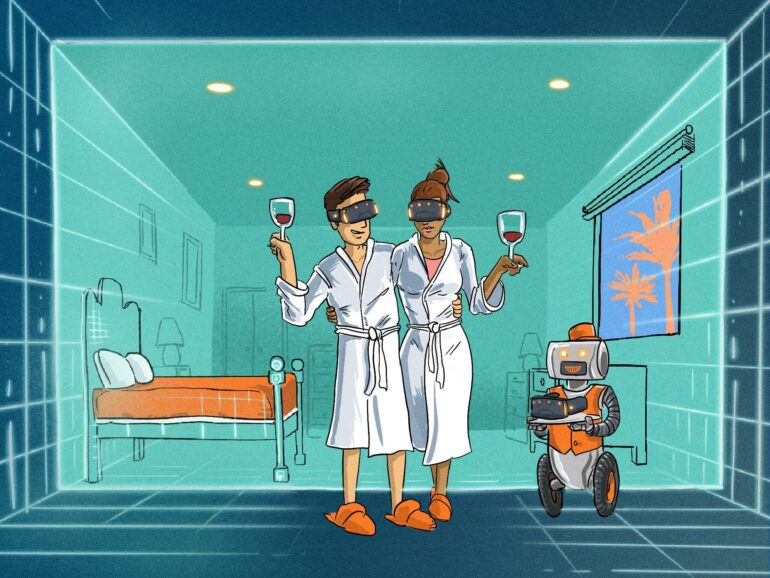 It's no secret that the hospitality industry has been itching to get back on track after the wave of pandemic restrictions and labor shortages. Large hotel chains and brands like Hilton (NYSE: HLT), Marriott (NASDAQ: MAR), and Accor (BATS EU: AC) finally can fully welcome back guests to the hotel experience. So, would now be the time to reinvent themselves and release 'Hospitality 4.0?' Actually, some hotel chains had a swing at the 4th Industrial Revolution hype, by trying to integrate trendy tech (at the time) into their guest experience. Things like the Internet of Things, robotics, and augmented and virtual reality was thought to "elevate the guest experience." Let's see how that turned out.
Already back in 2015, there was this hip new idea that your hotel room that could be 'hyper-personalized.' You would be able to change the digital paintings, customize the lights, have smart mirrors, and even go to the gym inside the room and take a class with a virtual coach. Hilton has taken this forward by implementing Gym Rax, a kind of in-room gym where you can do strength, suspension and weight training, yoga, and more. I wouldn't be the first to choose this over a regular gym, where I can also work on my social muscles (and keep the sweat out of my hotel room). Since the hype of this gym-in-your-hotel-room hasn't ramped up since 2017, I think I'm not the only one that prefers an old-fashioned hotel gym.
Next up, in Japan, Marriott allowed guests to take a virtual trip to multiple destinations through AR and VR. The experience is complemented with a meal and tour of the city you have virtually landed. Nonsense! If anything, I'd want to go to Japan and physically visit The Sensoji Temple, eat ramen and drink Sake. When I get home, if I really want, then I can take virtual trips and meals from my home's couch.
Finally, if you visited Marriott's Aloft hotel in Cupertino, California, several years ago room service could have been provided by Botlr, an autonomous robot that delivers small deliveries like snacks, toothpaste, or a razor. Sadly, Botlr is already made redundant by a simple minibar fridge, and a well-stocked toiletries supply.
Bottom line, all of the above innovations for the hospitality industry tried to hyper-personalize and over-technologize the guest's experience. Nevertheless, they were overhyped and never became a commonplace thing. But, to be fair, other technologies, such as, contactless web check-ins and digital keys found a spot inside guests hearts. And, innovation in the hospitality business model itself has had a long-lasting impact in the industry. Companies like Airbnb (NASDAQ: ABNB), with a peer-to-peer digital platform, are definitely here to stay.
Could future innovations from the big hotel chains become commonplace features, or are they destined to become fads of the past? It is not certain, but perhaps an old-school focus on the guest's real needs is all that is required to keep them relevant in the 4.0 world.
Bon voyage!
Want to get published in the Quantfury Daily Gazette? Learn more.