A tale of two investors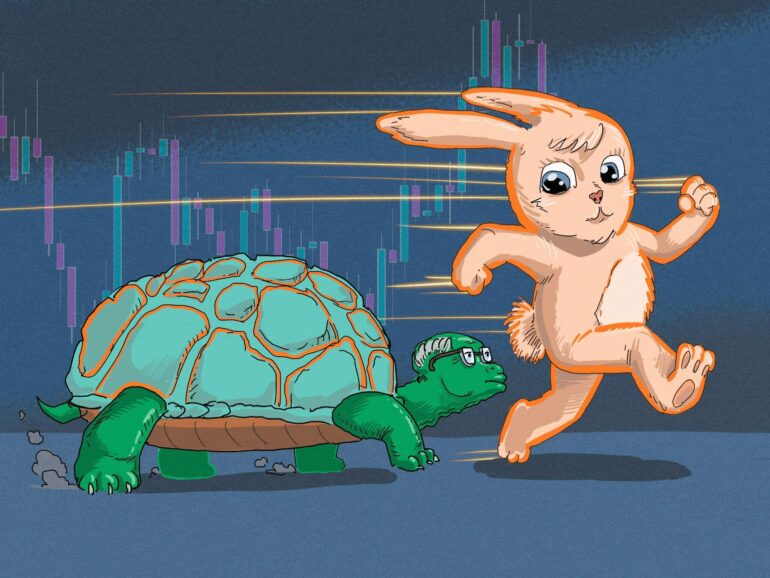 The last several years in the crypto, tech, and traditional finance sectors have painted a story of diverging preference in the mind of investors. As an individual, the choice you make would most likely depend on your personal preference. Maybe you like hot trending stuff, or perhaps you have a more old-fashioned approach to life.
The latter can be perceived when comparing different approaches to trading and investing. For example, those of Cathie Wood, CEO of Ark Invest, and Warren Buffett, chairman and CEO of Berkshire Hathaway (NYSE: BRK). When graphing the return on their investments, the first thing that comes into mind is 'The Tortoise and the Hare' fable. But the story is not so simple, and it would be doing a disservice to Buffett and Wood to overlook the complexity behind their strategies. But let's play with the idea of their two diverging investing themes.
Cathie could be seen as having a futuristic style. It's sexy. It's based on the future brands, looking for the next big thing that everyone will be in love with. A few of the stocks that meet her criteria are Roku (NASDAQ: ROKU), Teladoc Health (NYSE: TDOC), and Coinbase (NASDAQ: COIN), which are among the companies with the most weight on her firm's portfolio.
On the opposite side, there's Warren Buffett with a slow, steady, and tedious style. He focuses on earnings, financials, and the value investing philosophy of companies with good returns over many years. Those with profit margins and unique products or services which trade at a good discount. The bottom line, and best way, to understand Buffett is by checking out Berkshire Hathaway, and his investing philosophy which was influenced by Benjamin Graham. The company holds stakes of close to 6% of Apple (NASDAQ: AAPL), 20% of American Express (NYSE: AXP), and 13% of Bank of America (NYSE: BAC) total shares. Similarly, Buffett's annual shareholder letters talk about one of the wonders of the world – compound interest – that lies at the core of his investment strategy.
But Buffett has reinvented himself over the years. Recently, Berkshire Hathaway made public with an SEC Filing the purchase of $1 billion in Nubank (NYSE: NU) shares, the most prominent fintech bank in Latin-American. Nubank doesn't allow its users to trade cryptocurrencies, but it does let them invest in ETFs which replicate indices backed by crypto through its investment unit, NuInvest.
Combine Warren and Cathie's personalities, and you get a somewhat broad story of two different investor styles, playing their respective roles in the market. Some may prefer one over the other. The truth is that both offer different angles on trading and investing. In the end, the world we reside in, and the forces that shape the volatility of the market, will determine a large part of Buffett and Wood's destinies, as well as our own stories.
Want to get published in the Quantfury Daily Gazette? Learn more.