They can buy you stocks, but can't buy you flowers?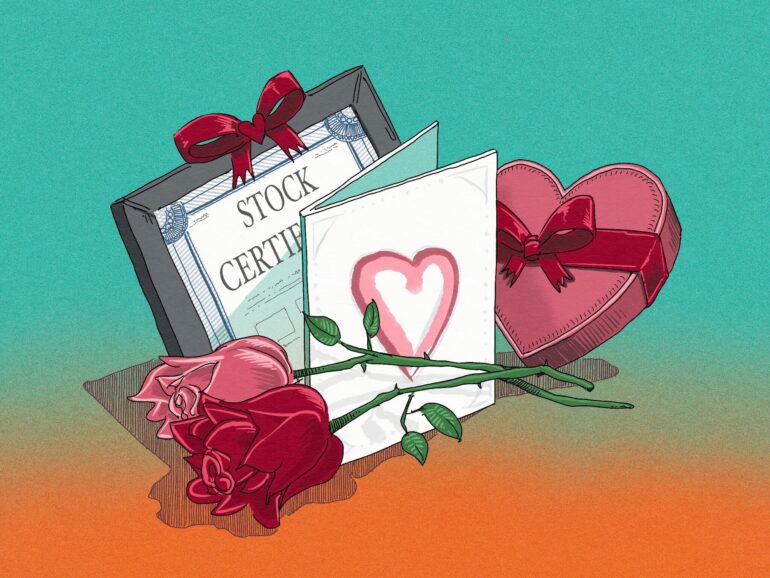 Valentine's Day is a time to celebrate love and show appreciation with gifts for significant others, family, friends, pets, and more. More or less the same as all other major holidays, Valentine's Day stimulates feelings of love and is acknowledged as a compelling cultural and commercial celebration of love. Last year, total Valentine's Day spending weighed in at $21.8 billion and average consumer spending was $165 on average.
The top categories for Valentine's gifts are chocolates, flowers, jewellery, and designer bags. This is music to the ears of companies most closely associated with the holidays and emotional ups and downs. Hence, why chocolatiers like Hershey Co (NYSE: HSY) and Mondelez International Inc. (NASDAQ: MDLZ) love Valentine's Day more than your valentine. High-end luxury fashion companies, like LVMH Moet Hennessy Louis Vuitton SE (BATS EU: MC) dedicate their entire website landing page to capture your valentine's attention.
However, there's a new gift category that is starting to gain popularity and its stocks. Investing in the stock market has become more popular than ever since the start of the Covid-19 pandemic, leading to the dramatic growth of retail investors and the record level of new accounts opened by brokerage firms. As a result, gifting stocks to significant others, family and friends are beginning to catch traction.
For instance, Kanye West gifted Kim Kardashian with hundreds of thousands of dollars in a portfolio of blue-chip stocks that includes Adidas (BATS EU: ADS), Apple (NASDAQ: AAPL), Amazon (NASDAQ: AMZN), Disney (NYSE: DIS), and Netflix (NASDAQ: NFLX). The 'Black Panther' star, Michael B. Jordan also 'invested' in his relationship by buying his girlfriend Hermès International (BATS EU: RMS) stock certificate.
With the power of social media, combined with the increasing accessibility of trading and investing apps, retail investors can now easily access the markets and open brokerage accounts. Gifting shares of stock may be easier than you think. Individuals can gift or transfer shares of stock to their significant others, family, friends, and more. Also, there are companies that specifically allow individuals to gift shares to other individuals seamlessly.
This practice of gifting stocks contains an interesting sentiment, even if it may not be as romantic. It's an unconventional approach to be sure, but it is a fun way to create interest in the financial markets or a particular company. Best of all, stock certificates won't wilt like flowers, assuming you frame them properly. But, don't go overboard with diversifying your gift options. At the end of the day, flowers and chocolates will still probably be your best bet for that someone special.
Want to get published in the Quantfury Daily Gazette? Learn more.