Drones: on their way to supermarket near you?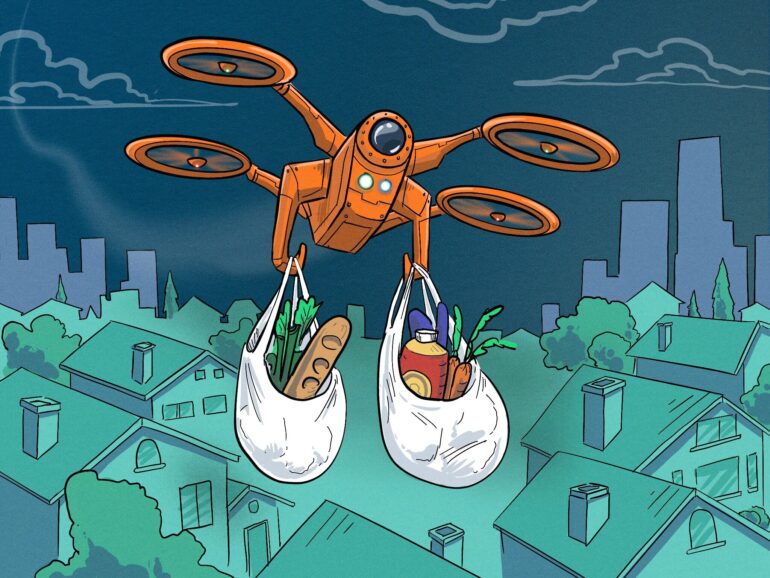 The drone revolution has long been a ubiquitous idea for any business person or lover of new technologies. The concept of efficient and effective flying objects is appealing and commercially enticing.
So it's no surprise that drone companies could start making deals with supermarket chains to provide pilot programs in selected areas for deliveries. In these programs, supermarket customers can order from hundreds of products delivered by drone. Recently, Walgreens (NASDAQ: WBA) announced one such partnership with Wing, a drone company which is owned by Alphabet (NASDAQ: GOOGL). This adds to the list of companies like Walmart (NYSE: WMT), Kroger (NYSE: KR), and UPS (NYSE: UPS), who have all previously tested drone delivery.
All this has an undeniable hint of science fiction, but little by little, it is more real than ever, so I wonder: who will pilot these drones? Will they all be autonomous? At what size will a drone have to go from being autonomous to being piloted by a professional? How will government agencies secure the air traffic of so many drones? As satisfying as it must be to see your orders being airdropped to you, partnerships like the above seem to raise more questions than they answer.
One example of why these questions are important is FedEx (NYSE: FDX), as, by 2023, they will begin using Elroy Air's autonomous, electric, vertical take-off and landing drone to move packages between distribution points. The interesting thing about this drone is its capabilities because it is not the typical drone that can carry loads of a maximum of 1.5 kilograms. This drone, called "Chaparral," can carry between 136 and 226 kilograms, traveling a distance of 482 kilometers, all autonomously.
A drone with such impressive capabilities compared to the drones we are more accustomed to certainly opens doors to many possibilities. Imagine being stuck in a broken-down vehicle in the middle of nowhere and being able to ask for a delivery of a tire, gasoline, engine oil, or any mechanical part to repair the car's engine.
Or imagine you are taking a walk in the mountains with your dog, and suddenly your pet suffers an injury. Being in a remote area, calling a normal ambulance is not an option. But could there be an 'ambulance drone' of sorts? Of course, for this to happen, the safety level of the technology has to improve drastically. And it will, like all forms of new technology, probably come with its own set of headaches (particularly if one lands on you).
On the other hand, perhaps we are, as usual, overestimating the capabilities of this technology in the short run. It's cool to fantasize about a firefighting drone piloted by an expert that might be able to pull out people trapped inside a burning building or drop a small torrent of high-pressure water on the flames to relieve the fire in its path. That may not happen for a while, but perhaps in 15 years, it will be a serious possibility.
Want to get published in the Quantfury Daily Gazette? Learn more.